The Latest ....
Kids in Politics
I don't remember who our Kindergarten class elected in the presidential election that late autumn day in 1960. But, I do recall that my Mom pretended to be very angry with me after our teacher, Mrs. Powell, reported to her in which of the two boxes I cast my "vote" while exiting the classroom after school. Without naming the candidate, I'll only say that it rhymes with Schmixon, and that he lost on the national level.
Most-likely, that exercise was our first exposure to politics, but it would only be a year or two later before we began choosing sides (voting) for teams when starting up a game of "ledge" (aka pinners) on the playgrounds of the Chicago schools. It would be another few years before we were compelled to run for, and vote in, our middle school class elections. Finally, by our senior years in high school, I'd guess that 95% of us were either really, really interested in "running" for one of the offices … or really, really not.
The common denominator during that span of 12 years was the repeated cheer from various authority figures that we could all become POTUS if we really wanted to. I wonder what motivates kids – at age 5, 9, 12 or 17 - to want to become president. Perhaps we are influenced by environment within our homes or neighborhoods. Or, perhaps it comes from video games, or the sitcoms and dramas seen on basic cable, or from the sensational news reports, or the raunchy ads, or … worse yet, from the presidential debates.
Here's my rough for an editorial cartoon that depicts a proud parent and her son's ambition to "be" president, influenced by the wrong person and for the wrong reasons. Subtle enough?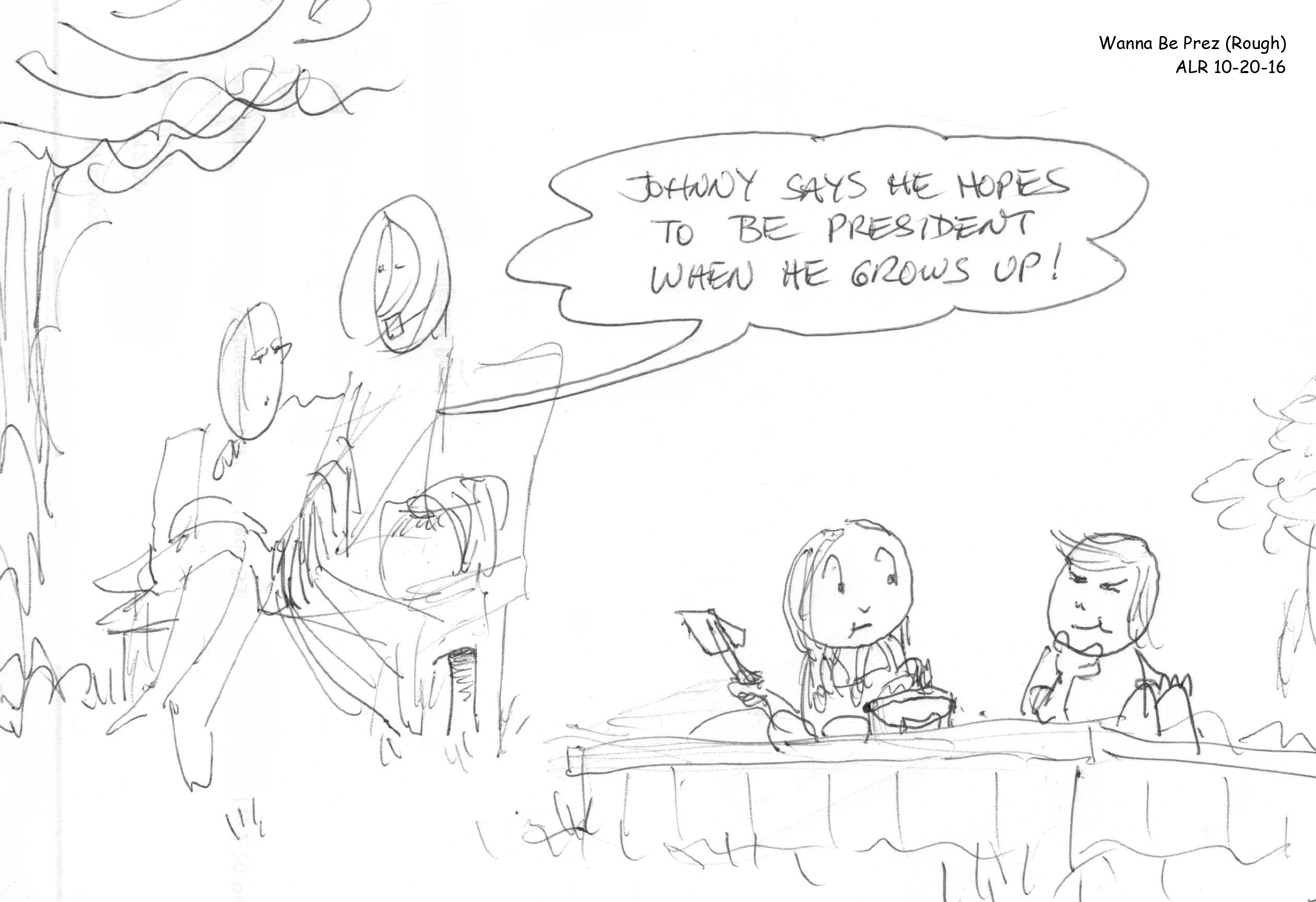 August 24, 2016
Something about Nelson

Not sure why, but if your name is Nelson there's a good chance that you may like to relax, get casual and just unwind in a fashion that - well - just might be considered "all-your-own". And there may be no better way to illustrate this point than by sharing a couple of great cartoons (well, at least one of them could be considered great) - both of which feature a character by the name of "Nelson".

In 1994, when I introduced my single panel strip Moon Crazy, I featured my version of "Nelson" within the submission package that I FedEx'd to all of the major newspaper syndicates. As this particular strip was not picked up, I considered it fair game and published it on-line, for all the world to see (alas, free of charge) . . .

Earlier this week, I let out a huge giggle when I saw, not only another "Nelson" in the newspaper comic section, but one that also likes to get casual in his own way. This version, was created by the extremely talented Jerry Van Amerongen, Facebook friend and, more importantly, two-time winner (2003 and 2005) of the National Cartoonist Society's divisional award for best newspaper panel, for his ever-entertaining "Ballard Street " ...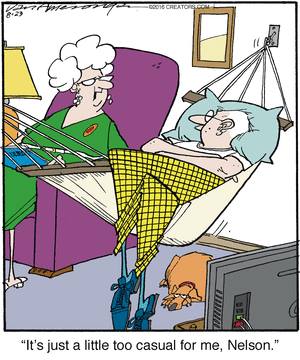 Not that anyone reading this would disagree, but don't take my word for it ... visit Ballard Street at ...
http://www.gocomics.com/ballardstreet
June 13, 2016
This morning I drew a quick rough for a cartoon that (unfortunately) won't get done anytime soon due to the fact that we close on our new house this Friday - and we are so far behind on everything that must get done before then.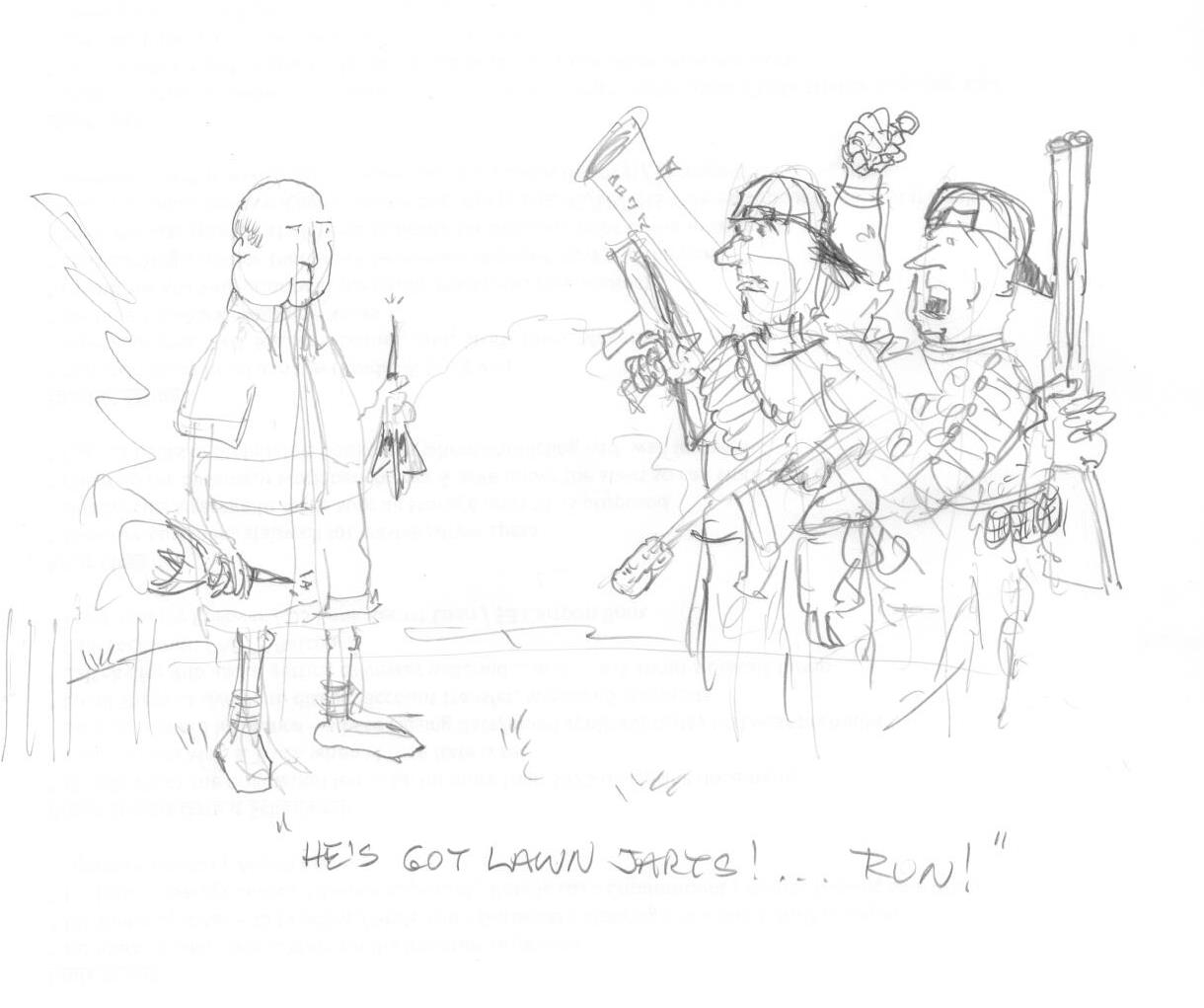 June 2, 2016
"What the ...?" That might be your reaction if you just tried clicking on the link to RejectedToons.com but ended up here. Don't dismay, because "RejectedToons" is now part of the Wallmarkmedia family, and much of that website's content has been folded in to this flagship site. In fact you'll see that the menu bar icons are nearly identical - along with a lot of the other features. So now you get all the fun with half the hassle.
May 15, 2016
We had our first open house today so this morning we cleaned the house extra special, hoping that all of the potential buyers would think it looks this way all the time. Then we headed out to visit our daughter, grab a bite to eat, and drive past our new house for the 40th or 50th time this week. (We can't wait to move in.) After a couple hours we received a text from our realtor that the coast was clear and we could finally come home. Although he mentioned that we had set a record for the number of people to ever go through one of his open houses, I wasn't impressed. I know this neighborhood, and I'm sure you could count the number of serious buyers on one hand after you dismiss the hordes of curiosity seekers. (Anyone out there old enough to remember Gladys Kravitz?)
After we got home I turned my studio back into, well, a studio. I hauled everything out of the closet and put it all back where it belongs. Sure, I get that selling a home means you need to remove clutter and personal items, but since when is a Wacom Cintiq, HP Laserprinter, a set of comic strip coffee cups, TV and movie memorabilia, a 1960's Hamm's beer sign, Chicago Blackhawks gear, and five guitars considered clutter? Okay, so I cut the guitars down to my Les Paul Gold Top and one acoustic, but surely our visitors would find the other stuff to be just as cool and fun as I do? Geez, do we want to sell this house or not?
Anyway, it's now back to the world of drawing cartoons and all things related. That includes me reminding you to check out Tim Jones' self-syndicated comic strip, Sour Grapes, which is about Aesop, a smart-mouthed flying dog and the problematic life that he shares with his friends Maddy, Slice and Constance. Sour Grapes is drawn in a very clean and appealing style which, combined with Tim's natural sense of humor, is why he's currently published in no less than 18 newspapers (not an easy feat these days) and has had two paperback collections published. If you check out his Sour Grapes Facebook page please be sure to let him know you "Like" it.
May 7, 2016
We're right in the middle of selling and buying homes, so anyone who's been through that joyous process surely understands how time-consuming all of the little tasks that go along with the adventure can be. That is, unless you're a cartoon syndicate editor or other client waiting for a job to get completed. In that regard, I won't use these pending moves as an 'excuse' for not posting anything new in the past two weeks. Rather, I'll just say that it's the 'reason'. Funny how words can make the same situation sound so different. I'll have to remember that the next time someone confuses 'lazy' with 'priorities'.
Due to a private showing this morning which required me to leave the house, I killed some time at a park near Lake Michigan and enjoyed the cool (make that colder by the lake) Spring weather. Believe me, the hot McD coffee really helped. While browsing some of my favorite links on my phone I came upon Keith Brown's website for his comic strip, Wages of Sin. I've been a fan of Keith's for quite some time and even proudly display my Wages of Sin coffee cup on my drawing board. Granted, the cup holds drawing utensils - not hot beverages - but Keith says he's fine with that. The cup is a constant reminder of my favorite federal holiday - Halloween. Okay, it may not be an official federal holiday but it should.
Please take some time to visiting Keith's Wages of Sin strip on-line. I think you'll agree with me that his humor is top-notch and drawing style very appealing. And you will certainly be entertained. Where else can one experience "just another day in hell" - I mean, other than at your day job - mingling with devils and a talking skull and spider?
Keith's renditions of devils are a little different from mine. Over the years I've only rendered one cartoon featuring the minions of the underworld but with Keith ruling that domain why bother with more?
My devil cartoon from 1995 ...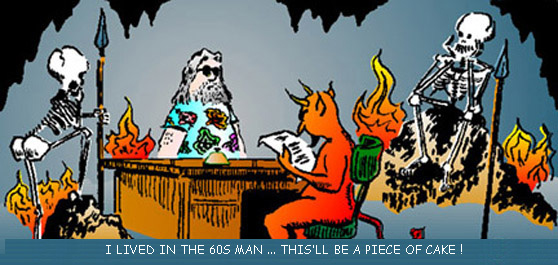 April 23, 2016
Another good Facebook friend of "ours", Brad Diller, puts out a wonderful daily panel called Funday Morning. Besides being one of the funniest written panels out there today, Brad's characters and scenes are drawn in a style that could literally make one double over with laughter even if they were presented strictly in pantomime. The main characters of Funday Morning are Bud and Pearl who, along with their two kids and cat, live in a home whose walls often display cracked plaster that reveals the lath boards underneath. This imperfection is what I like to call a "wallmark", and it has been the icon associated with my work at Wallmarkmedia since the early 1980's. Perhaps inspired by Alfred Hitchcock, who would surreptitiously sneak a cameo shot of himself in most of his movies, I liked to sneak my wallmark in some of the illustrations that I did for clients - at least whenever possible. Naturally, the situation had to be just right. But it appears to have worked jut fine in the example shown below, which is from a series of illustrations that I did for a Fortune 500 company's forklift training manual ...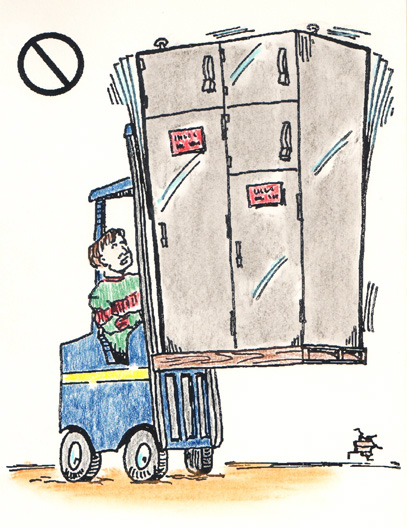 As far as I know, this little "signature" was never caught, so let's keep this our little secret. (Perhaps if my name was Kilroy I might have taken another route).
April 20, 2016
If you haven't checked out Bill Abbott Cartoons yet please make it one of your top priorities for the day. Not only does he possess a very charming drawing style but his gags are awesome and consistent. The link above takes you to one of his super hero panels, which conjured up memories of one that I did back in 1994 ...

A couple of years ago one of the Family Guy episodes had a scene that shared the very same theme. Below is the YouTube link ...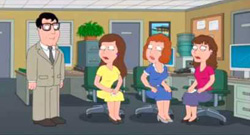 What's that they say about imitation being the sincerest form of flattery? Flattery don't butter the bread ... but I'll take what I can get.
April 16, 2016
Some folks expect the roles to be switched for Bernie and Hillary, so maybe it's too close to call at this point. On the GOP side there are some (maybe a lot) who think (pray perhaps) that Ryan is going to be the man – whether he wants to get in the ring or not ...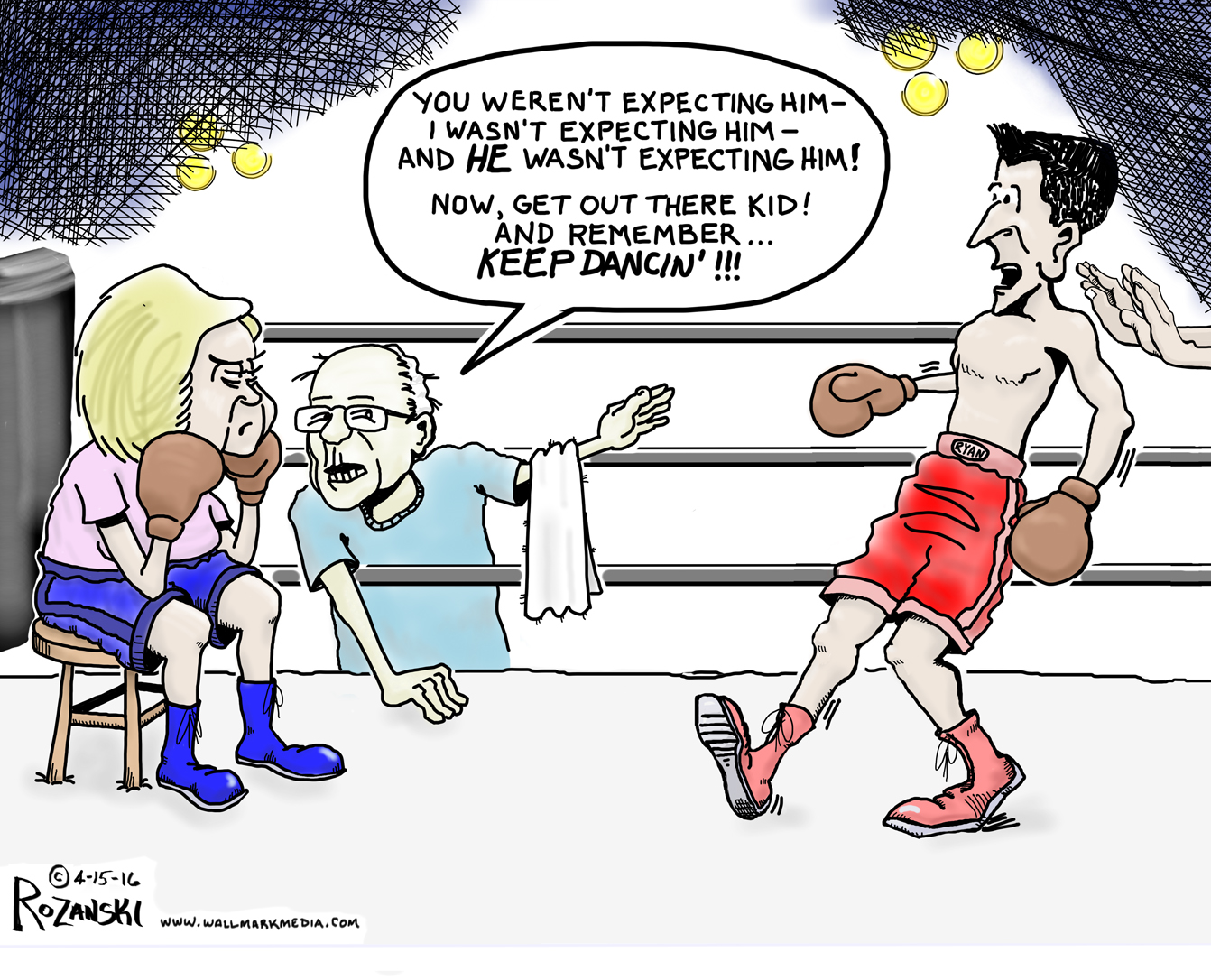 April 6, 2016
Most everyone knows that it's Bernie Sanders' goal to "take from the rich and give to the poor", so as a result of yesterday's Wisconsin's primary - a win for Sanders and a loss for Donald Trump - I drew a representation of what might be Trump's ultimate nightmare. Notice that I refrained from drawing Bernie in the obligatory garb from Sherwood Forest ...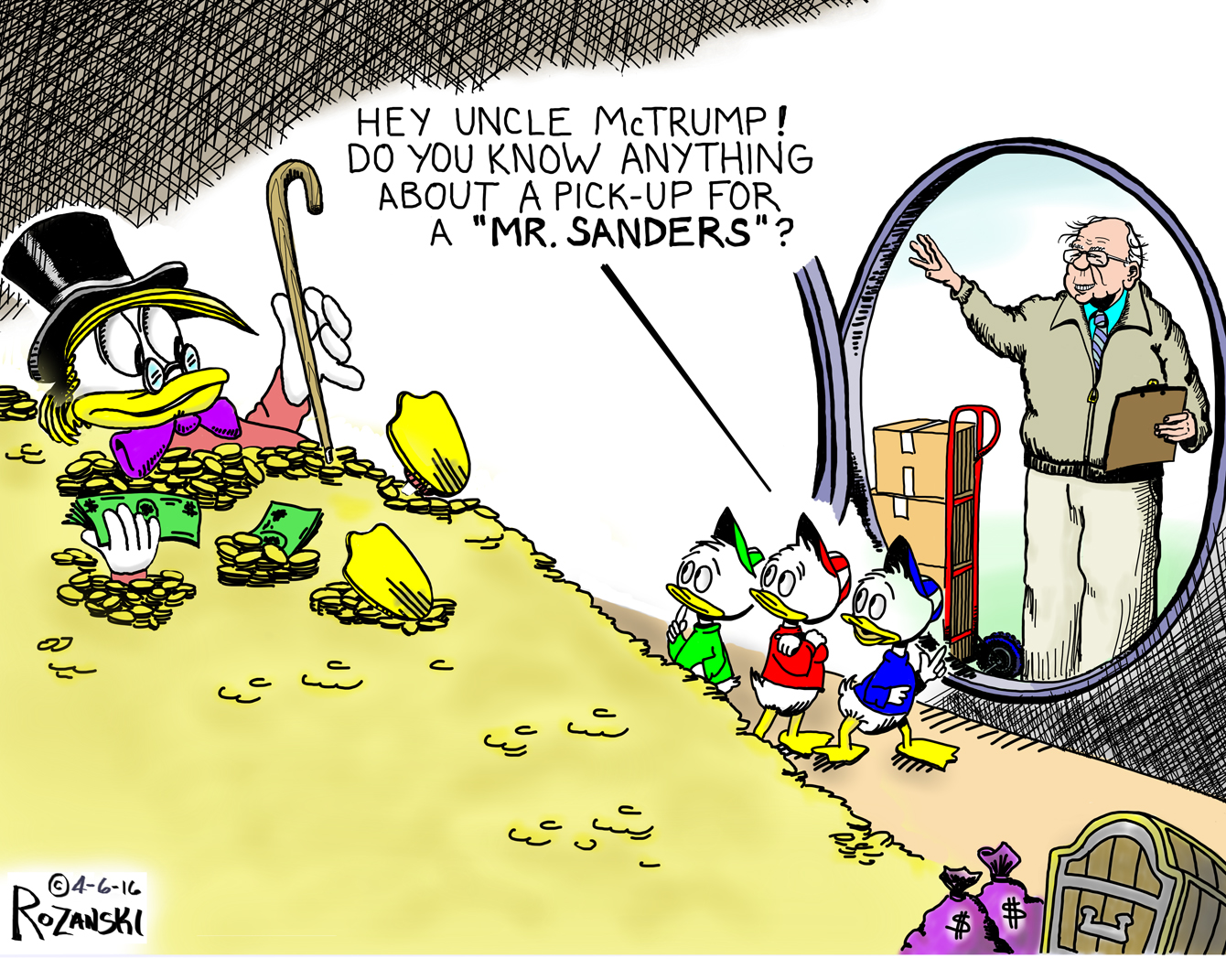 March 31, 2016
Assuming that Kim Jong-un and the North Korean generals actually have a flat screen TV and access to satellite news broadcasts (even though 99.994% of the rest of their country doesn't) they might agree with so many Americans that Donald Trump is one-scary-dude ...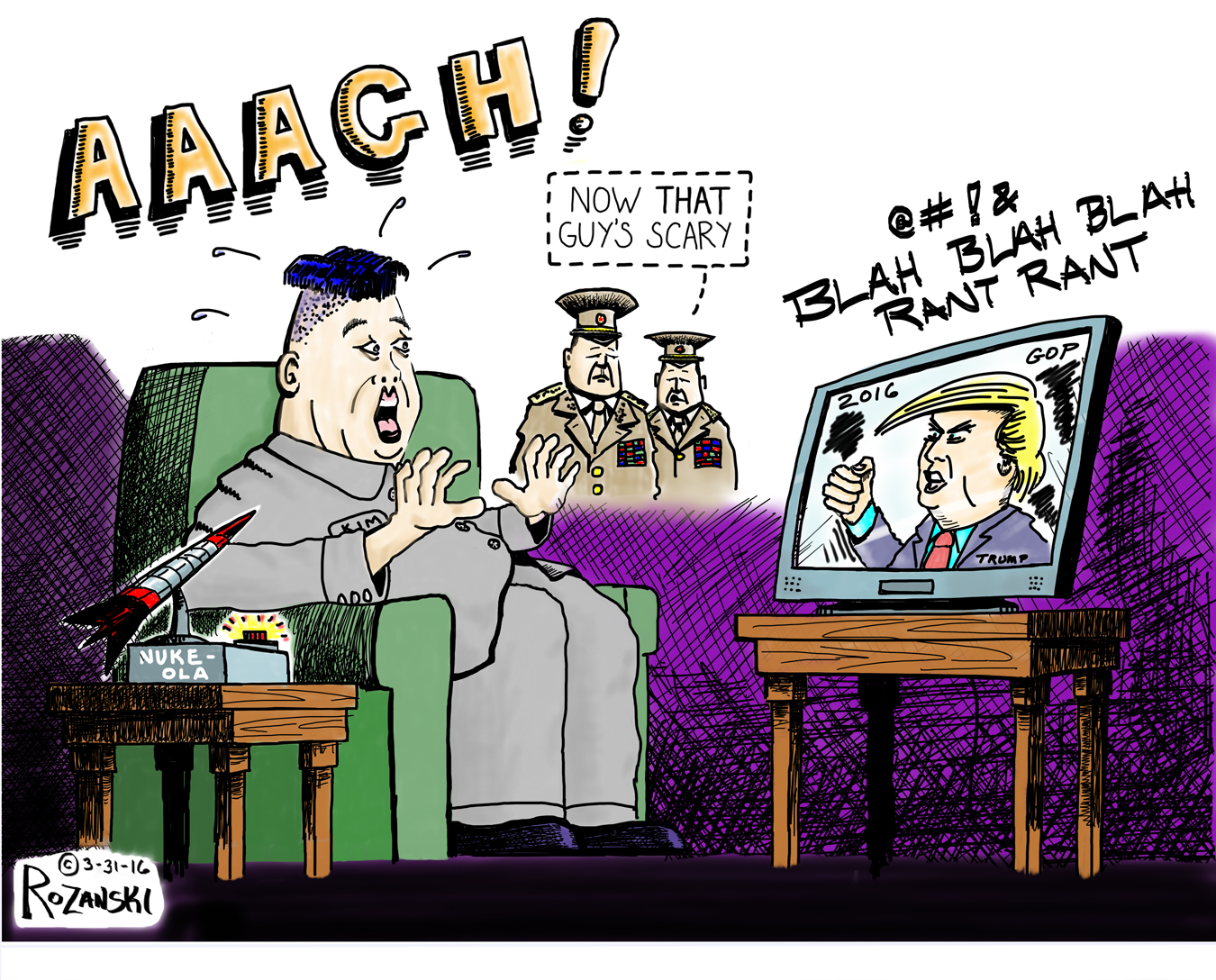 March 21, 2016
Even though his own party is trying to "cut him down" Donald Trump still keeps on hanging in there ...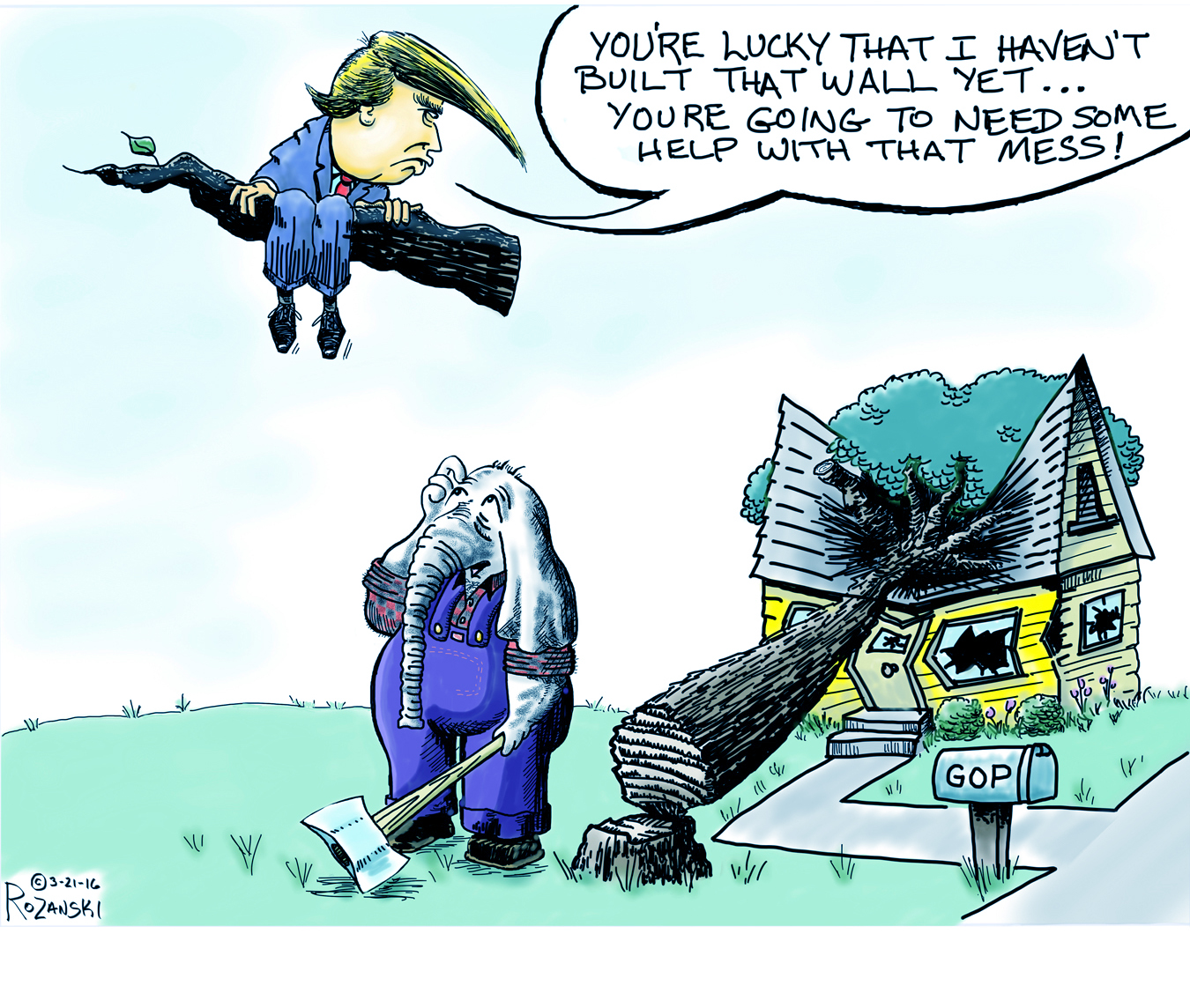 February 11, 2016
Here's Buzz, the title character of a potential new comic strip. It's a little raw as this was my first (and very quick) attempt at drawing and colorizing using Autodesk Sketchbook Pro on a very old Wacom Cintiq. Up until recently, I drew my comic strips using Winsor & Newton Series 7 brushes and Higgins Black Magic ink on Morilla #280 Worthy Bristol ...

Home | Create | Submit | Organize | Roots | New | Sale
Copyright © 2016 Alan Rozanski - Wallmarkmedia All Rights Reserved. Unauthorized duplication, reproduction or cloning is strictly prohibited. But then, how the heck would I know if you're using one of my comics as wallpaper on your personal computer? Of course, if you do and you feel guilty about it you can always send me a check in the amount of your choice (minimum of 3 digits on the left side of the decimal point).